📣 ❗❗️️ Daca subtitrarea nu porneste automat, apasati pe butonul CC de player si selectati limba (Romanian sau English).
📣 ❗❗️️ Daca solutia de mai sus nu functioneaza, va rugam sa ne scrieti pe e-mail la 📩 contact@vezi-online.eu 📬.
Vezi Online: Serial Online: Boston Legal (2004), serial online subtitrat în Română: 5x7
Urmărește acum episodul: Mad Cows
Data apariției la acest episod: Nov. 03, 2008
Alan Shore and Denny Crane sue the government when cattle rancher Carol Hober who, Crane believes, is the spitting image of actress Valerie Bertinelli – accuses the USDA of not allowing her to test all of her cows for Mad Cow Disease, an affliction that's close to Denny's heart. But Denny continually irritates Carol when he tries to make her confess that she really is Valerie Bertinelli. Meanwhile, Jerry Espenson is up for partner at the firm, but his quirky social inadequacies could lead to his downfall with the firm's panel, which includes Paul Lewiston.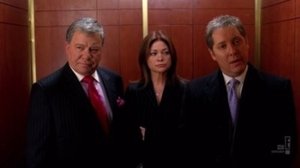 📌 Episoade disponibile Online