📣 ❗❗️️ Daca subtitrarea nu porneste automat, apasati pe butonul CC de player si selectati limba (Romanian sau English).
📣 ❗❗️️ Daca solutia de mai sus nu functioneaza, va rugam sa ne scrieti pe e-mail la 📩 contact@vezi-online.eu 📬.
Vezi Online: Prison Break – Evadarea din pușcărie (2005), serial online subtitrat în Română: 3x6
Urmărește acum episodul: Photo Finish
Data apariției la acest episod: Nov. 05, 2007
Michael threatens to cancel the escape plan unless he sees a proof that Sarah is still alive. Whistler is accused of murdering an inmate and it is up to Michael to prove his innocence and save his life. Lincoln and Sofia help in monitoring the morning guards. Mahone may have another way to get out of Sona.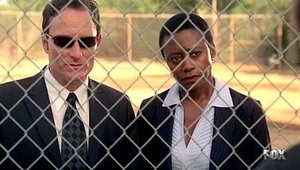 📌 Episoade disponibile Online